About event
On February 17th – 19th, WordCamp Asia 2023 was held in Bangkok Thailand. The venue was inside a large department store called IconSiam and it has everything you could possibly need. The amount of attendees was more than 1,500! Many came from all over the world, but since it was held in Thailand, majority were coming from South East Asia.
Sponsor Booth
Our booth, "Themes Park" joined as a sponsor in WordCamp Asia 2023 event.
We collabed with 3 of our partners, Snow Monkey, Lightning and Arkhe to introduce themes and plugins. Details below: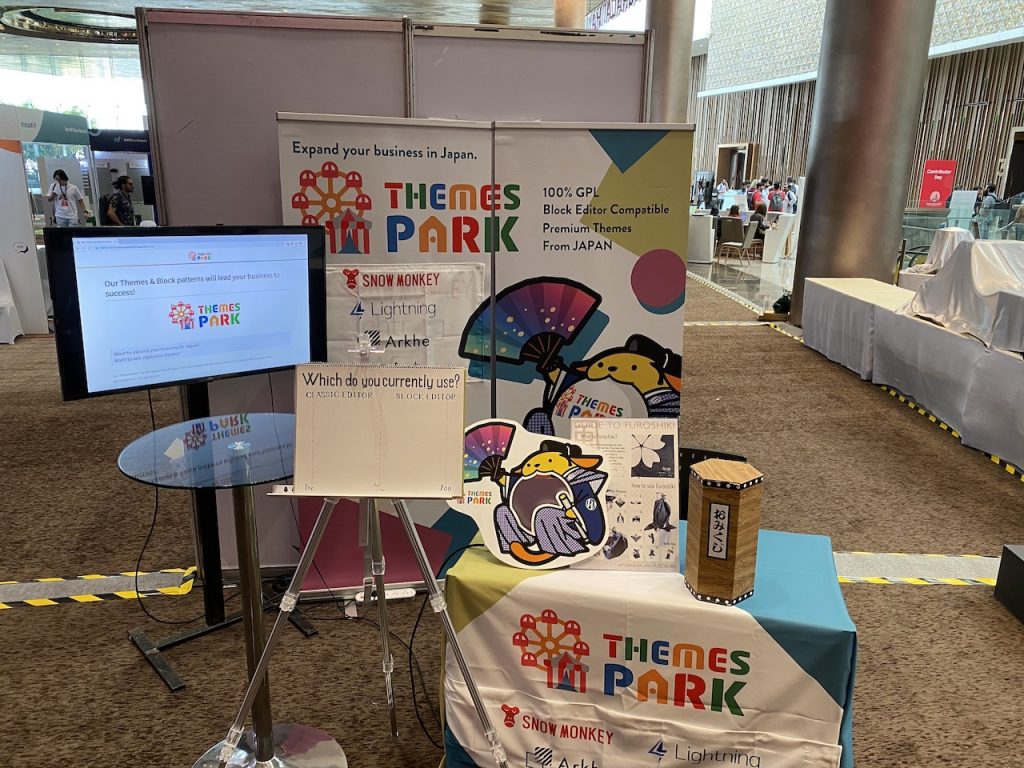 There were free goods like stickers, promoting our community in Japan. Also, there were some novelties that will be rewarded once participants enter their votes to our question. We also distributed flyers that includes all the information about "Themes Park", as well as each companies. A QR code was also attached so participants can scan and learn more about us.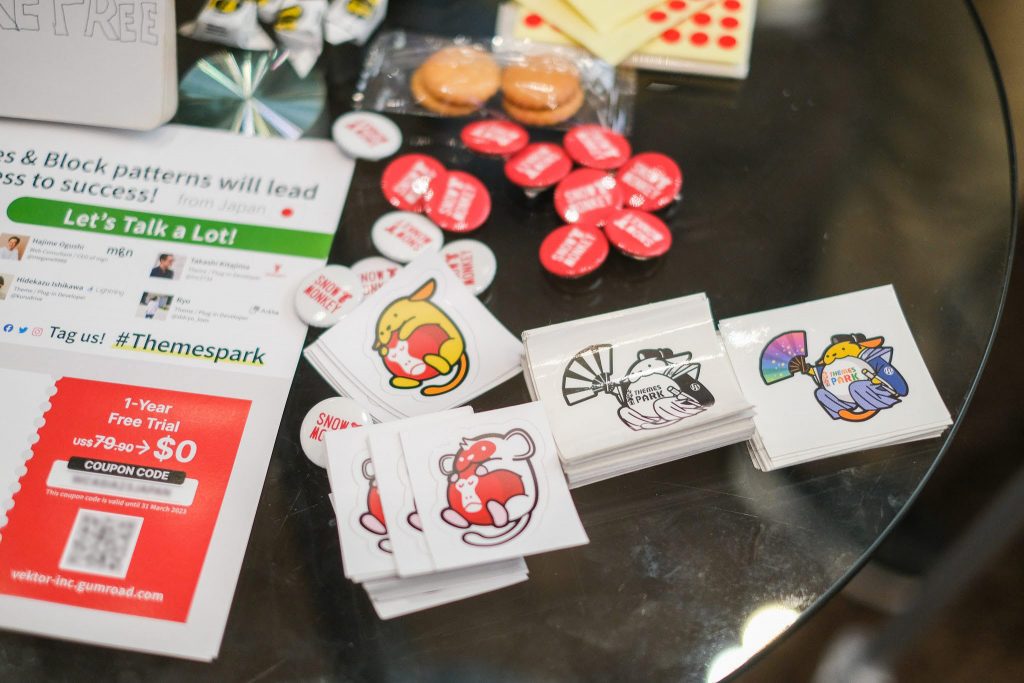 Day 1
Voting & Omikuji procedure
The voting and 'Omikuji' a.k.a. Fortune teller was a big hit! Since our booth was near the entrance of the lunch cafeteria and speaker's hall, it was in the center of attention. Another reason why it got a lot of attention was that participants can enter our 'Omikuji' to win our novelty goods once they voted. Like an 'Omikuji' in Japan, participants can shake the box to draw out one stick. Depending on the stick, they will get a different novelty.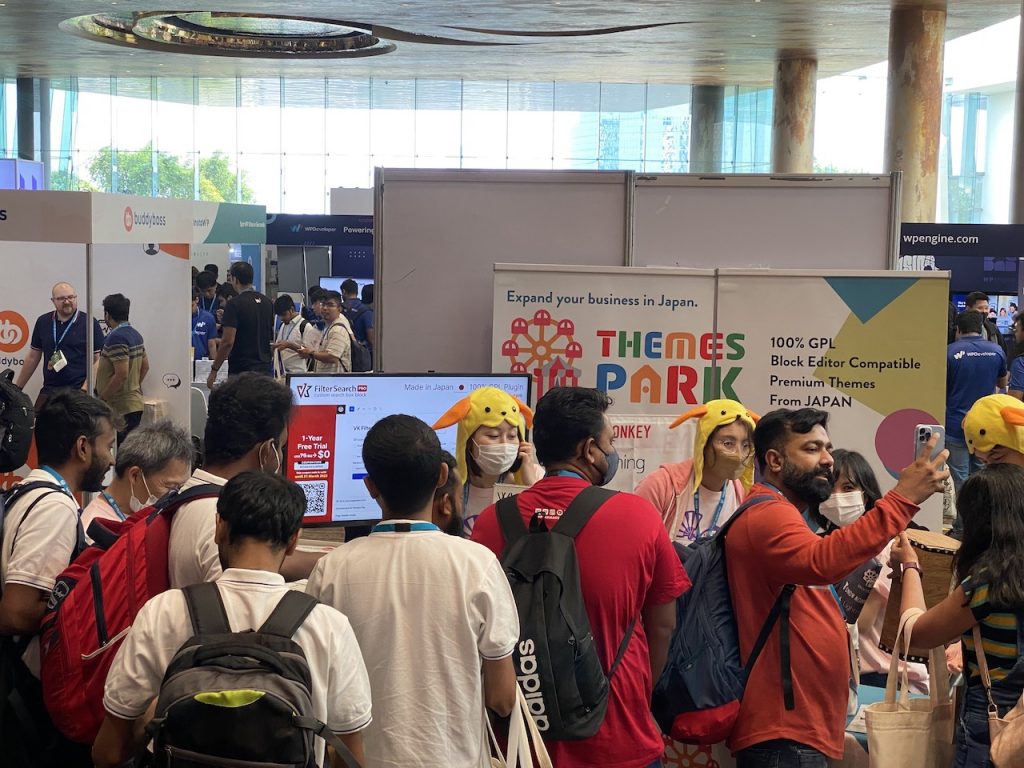 As a result, all the novelties were gone in Day 1! We were not expecting to have such many participants lining at our booth so it was an amazing surprise. Thank you to all who came to join us!
About Voting
Question on Day 1: "What do you use recently?". The options are Classic Editor or Block Editor. Participants can estimate which one they uses more by using the percentage scale, range from 50% to 100%. If participants chooses 50%, in other words 50/50, they are using both Classic Editor and Block Editor. People who cannot choose between the two will usually goes for 50/50 percentage.
As a result (result image here), the winner is Block Editor.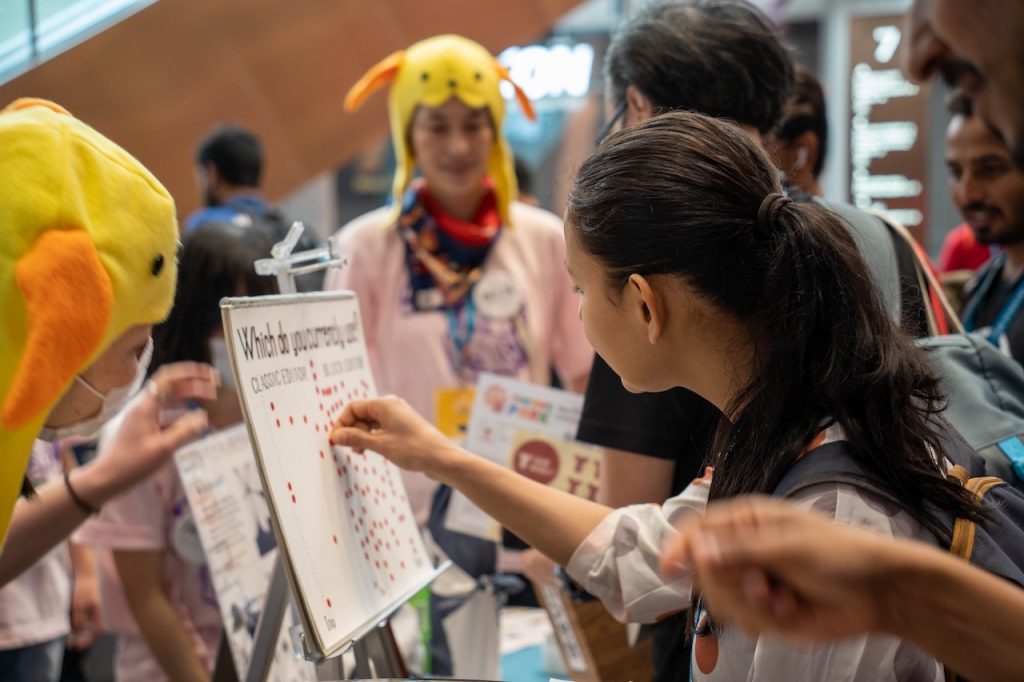 Although, a few people chose Classic Editor because they don't want to switch due to the worry that the website might crash, broken layout or resulted in errors. In the case of writers or bloggers, they simply don't feel the need to use Block Editor because all their main purpose is writing, and so they don't need extra functions like layout.
The highlight of the day was the people who chose 50/50. The line of 50/50 is even more than 100. From talking to many of them, we understand that people still respects Classic Editor and some believe that Block Editor still need improvements even if it is the way to go now a days.
It was nice to see many participants were interested in the result of the vote. Some even went back to take a photo and shared on SNS! We were happy knowing that it was a simple and easy topic that everyone can understand and relate to.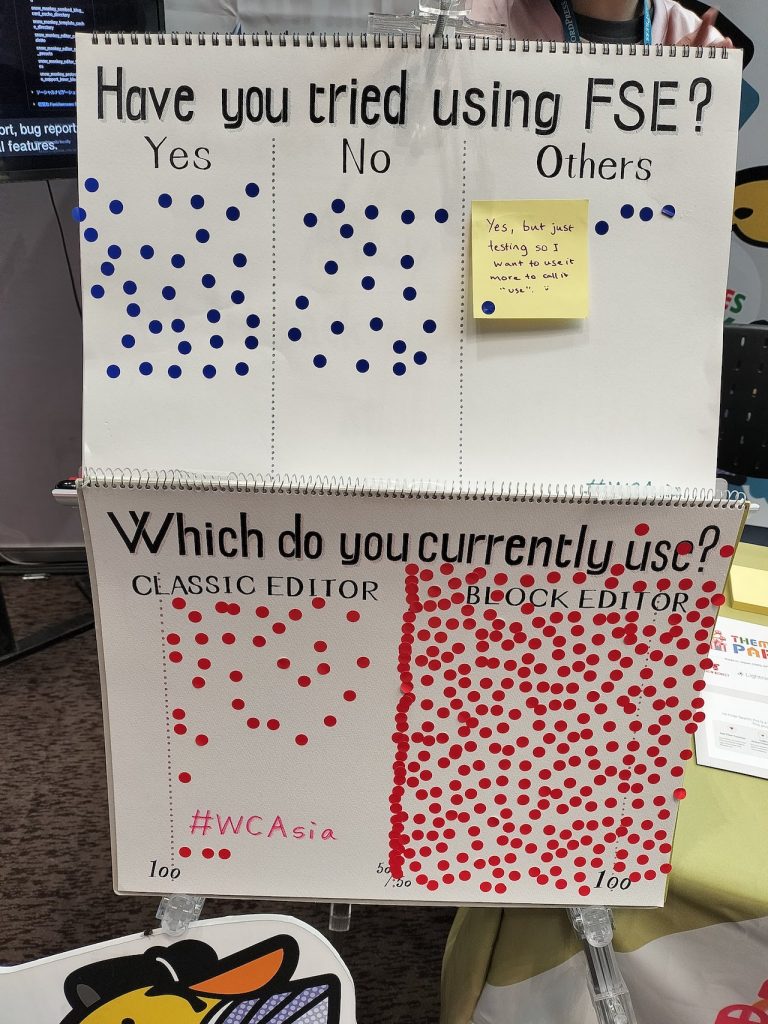 Day 2
It was much calmer and slower pace than Day 1.
Since we were out of novelties on Day 1, we only had free stickers to giveaway.
About Voting
Question on Day 2: "Have you tried using FSE?". Same procedure, participants can choose between the range from 50% to 100%. Interestingly, many participants did not know what 'Full site editing' is or simply needed more detailed explanations. A few knew what it is but they didn't feel they know it well enough to vote for 'Yes, I've tried it'.
Others
We focused on our photo booth and getting to know more about participants on Day 2. Our friend made 3 Wapuu hats for us to use them in the booth and taking photos with. There were also a cut out banner resembling a Japanese Samurai Wapuu. Participants can tag us on Twitter with the hashtag #Themespark once they took the photo. Yes, it was a bit late but we were actively engaged on Twitter on Day 2 than we were on Day 1.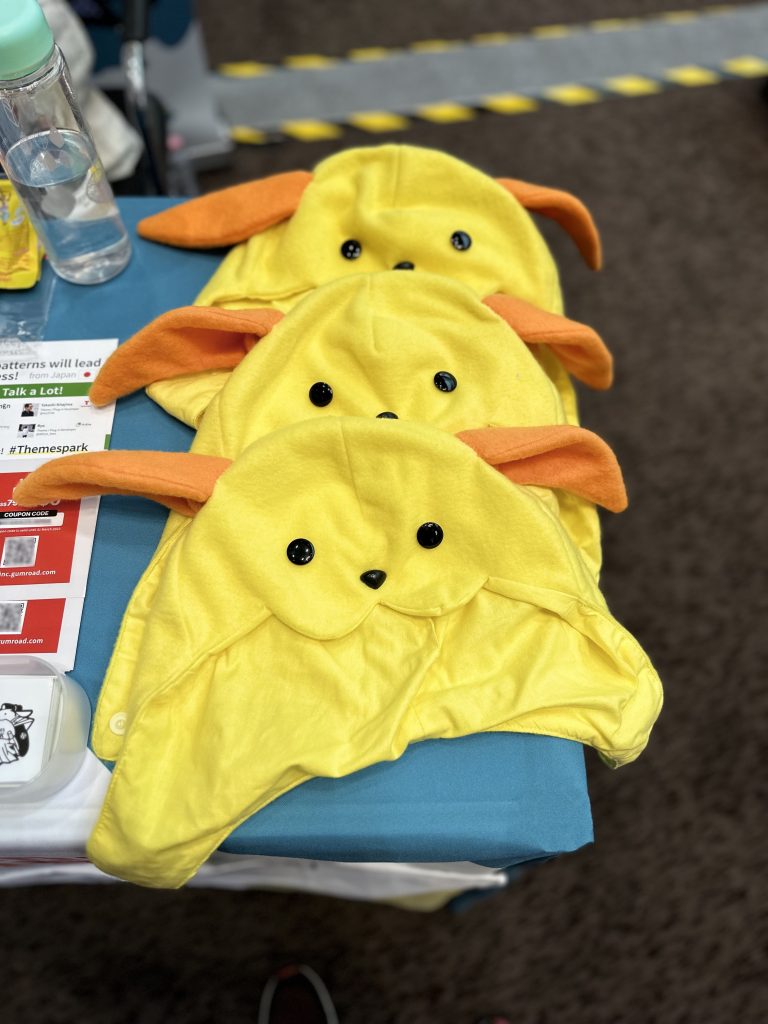 We did gave some cheese crackers as a gratitude for taking photos, but there was no reward in general for taking photos. However, many participants do love the Wapuu hats and enjoyed taking photos with them regardless. Although, it was not for sell, it was cool to see many people wanting to get the hats.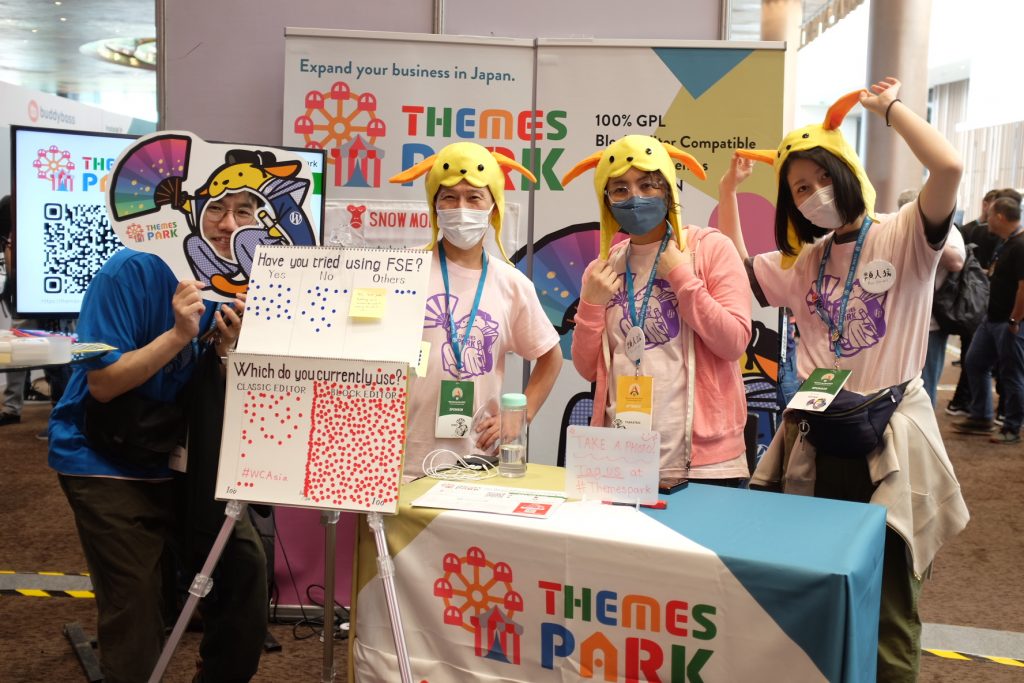 Our CEO also had a panel discussion, where he joined with other speakers to discuss and share their experiences on WordPress community.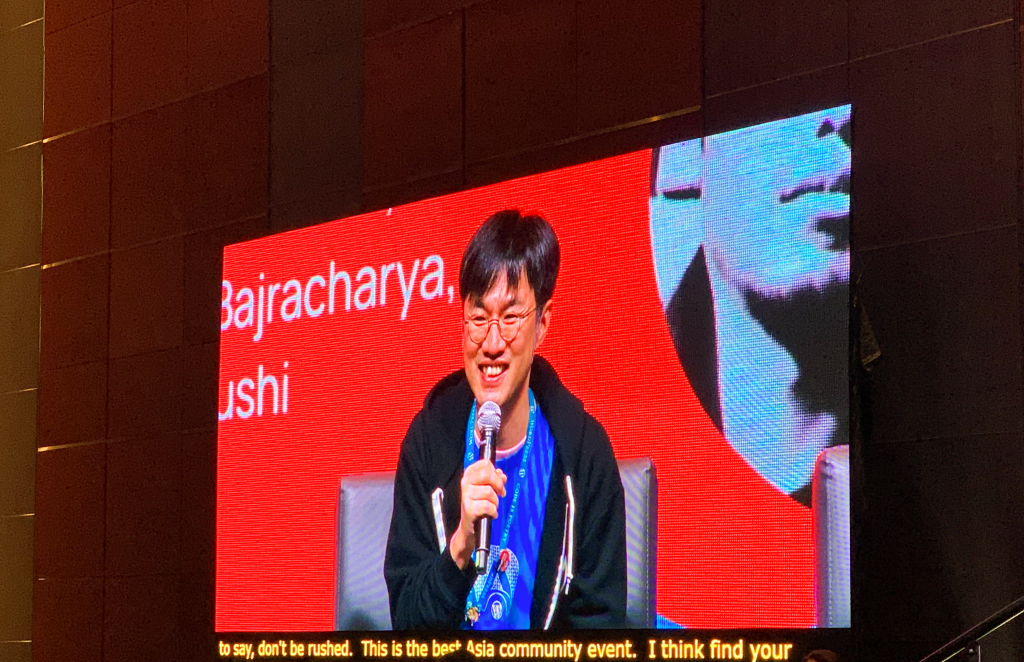 Looking back on WordCamp Asia as a sponsor
In record, this was not the first time mgn has held "Themes Park" booth in WordCamps. "Themes Park" were previously held in WordCamp Haneda 2019 and WordCamp Niigata 2019, in Japan. However, WordCamp Asia 2023 was the first overseas WordCamp that mgn joined under the name "Themes Park".
It was inevitable to not make any mistakes or bumps along the preparation stage. We learned many things regarding overseas shipping guidelines, traveling and the biggest of all, language barrier. Many of our Japanese members tried their best to practice English in preparation for our booth.
On another note, WordCamp Asia 2023 was a chance to experience many new and exciting challenges for "Themes Park". We got to meet with participants from different parts of the world, reunite with our old friends, and share about our experiences and knowledge with each other. Overall, it was a memorable and a one of a time experience for us. We aim to continue to contribute to WordPress, as well as develop and support with more services using WordPress.
Lastly, we would like to give a shout out and our deepest gratitude to the WordPress community, and everyone who participated in WordCamp Asia 2023 as organizers, volunteers, sponsors, speakers, and participants.
Thank you again for this opportunity. We hope to see everyone again soon!