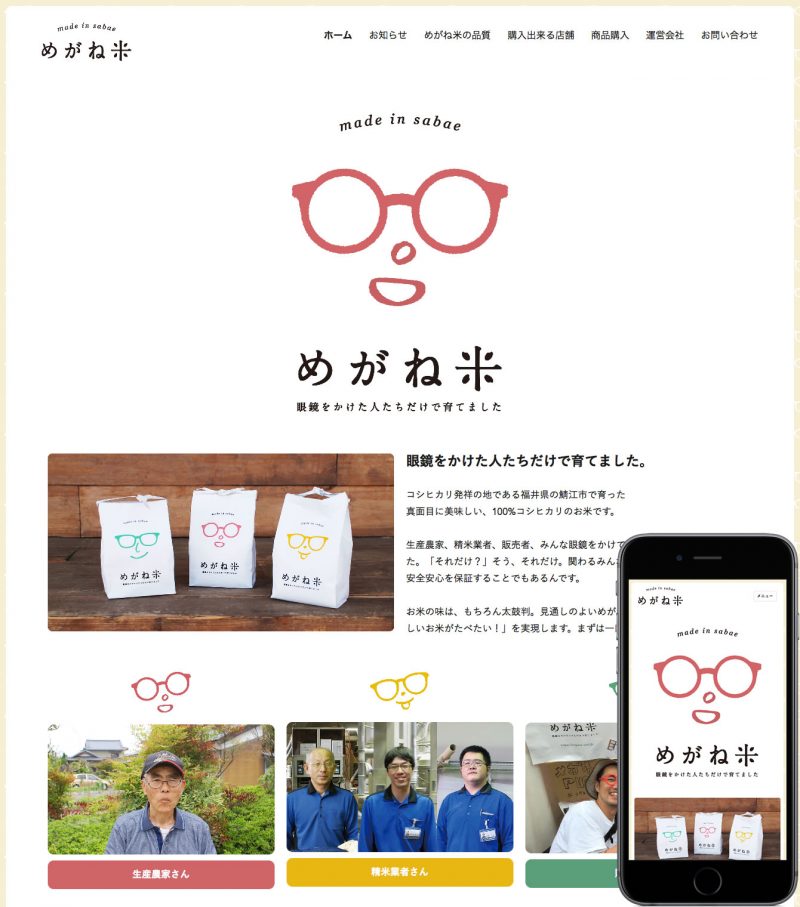 url : https://megane-mai.jp/
genre : promotion
This is a promotion site for Koshihikari brand rice (specially cultivated rice) and Megane rice produced in Fukui prefecture, which mgn handle product planning and sales. I am making it using the child theme of TwentySixteen.
All of designs were commissioned by Good Morning, a design office in Fukui prefecture. Lovely and cute, catchy Megane (glasses) with three variation of his brothers producing an excellent design and I'm really fond of it.
Responsive layout by default and equipped with the necessary custom menus and widget areas, Twenty Sixteen is a great theme when you want to create a website quickly.
You can also see our showcase of WP-D WEEKの事例 for reference.
Starting from 0, the branding of rice is Koshihikari from Sabae city, Fukui prefecture, which is a genuine product from Sabae city that is sacred for eyeglasses making. Moreover, farmers, rice millers and sellers are all made by people who's wearing glasses. This seemingly meaningless branding became a huge success on SNS, Twitter with over 20,000 related tweets.
Good news for glasses lovers → 「Slightly interesting topic」 of『Megane/glasses rice』raised only by people who's wearing glasses.
From there, it spread and was featured on media site of Nlab.
「Megane/glasses rice」made only by people who's wearing glasses has appeared, and Twitter responded with「great added value」–Nlab.
And so the spread continues.
It was even featured on TV media.
Birth of a new brand rice?「What is Megane/glasses rice」?|日テレNEWS24
Thanks to everyone who supported, our sales are going strong.
This case is an example of how we can handle marketing work including branding of products using the Internet and operation of SNS, etc.
Please feel free to contact us.