Soracom, inc. is developing a platform「SORACOM」that provide wireless communication for loT globally. Information distribution related to loT based on a wide range of products・services that is currently available. mgn was involved in the migration process of the blog which is the core to information distribution and the development of additional functions.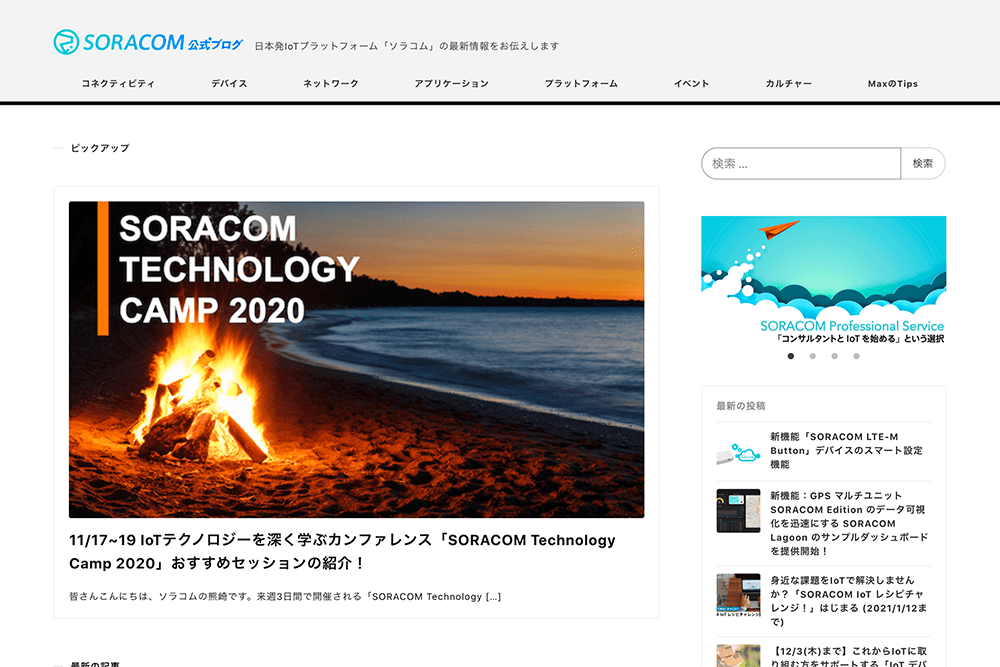 Background of blog migration, what we did
Soracom originally uses two different blog services, and this is their requests:
We want to combine domains into one
We want to make it easy to update without using any special skills or knowledge
We want to eliminate the need for middle ware maintenance while maintaining a secure state
Since the marketing team made such requests, mgn considered using blog migration. And the migration destination, Shifter, was decided since it has already been used on the official corporate website.
This is the procedure of how we migrate blogs:
Migrate from each blog service to WordPress/Shifter
Apply design
Introducing search function
Added support for blog editor
Migrating from blog service to WordPress/Shifter
Process for migrating from various blog services:
Implemented redirect processing in a one-to-one correspondence with all URLs.
The image and design of each articles were optimized as they were and the migration was carried out.
When applying the design, we are reconstructing a blog that is easy to use and read, while keeping the original design as our base concept, and reproducing a new version that takes into consideration of mobility for visitors.
Introduction of high-performance search
Algolia was used to introduce the search function. By using Algolia, it is possible to display the search results at extremely high speed.
WordPress and Algolia are linked using the WP Search with Algolia plugin. The search function itself was developed and implemented by our own plugin.
Support for block editor
We used Snow Monkey theme and Snow Monkey Blocks plugin as a support for the block editor.
Easier update functions, increase visitor stay time
Resulting in a blog that is easier to update than ever before, as well as the increased number of monthly articles. In addition, by doing things like arranging related articles in proper order, we prolonged the time visitors decided to stay. Soracom was very pleased and satisfied with these adjustments.
In order to increase your site's visitors and see the contents available, it is important to increase the amount of content and present them one after another in order.
Easy to update is an important factor in achieving that. Furthermore, mgn would like to effectively create a lead wire so that visitors could easily see many of the contents on the website.
We will help you in creating a「site where you can easily increase the content and receive many visitors」. If you have any concern about the update not being completed as expected, or the visitors being low, please feel free to contact us.
Contact us for consultation